April 2023 Webinar - Revised Definition of "Waters of the US" & Sackett v. U.S. Environmental Protection Agency
Thursday, April 20, 2023 (1:00 PM - 2:00 PM) (EDT)
Description
This webinar will include two 20-minute presentations from Jon Barmore and Royal C. Gardner. Learn more about both presentations below!
Presentation: Revised Definition of "Waters of the US"
This webinar will summarize the new rule defining the scope of the waters protected by the Clean Water Act, issued on January 18, 2023 and effective on March 20, 2023. I will specifically address the changes from the pre-2015 CWA rule that has been in place since September 2021. Additionally, I will address any relevant information that is presented in the final opinion of the "Sackett vs EPA" ruling by the Supreme Court (expected March 2023). All of this material will be discussed through the lens of the regulatory authority of USACE and obtaining a jurisdictional determination.

Speaker: Jon Barmore
Jon Barmore is a wetland biologist who has worked throughout the Eastern US and in a variety of academic, government, and private consulting positions. His field experience covers from the mountains of western North Carolina, to the sandy beaches of coastal Florida, to the deep swamps and bayous of southern Louisiana. He has worked on large scale coastal restoration and river diversion projects, mitigation bank establishment, wetland permitting, and jurisdictional determinations. His career includes working for Tulane University, Louisiana Department of Natural Resources, Environmental Services Inc, and the US Army Corps of Engineers. He currently is a senior botanist in the Jurisdiction and Enforcement Branch of the New Orleans District of the USACE.
Presentation: Sackett v. U.S. Environmental Protection Agency: Implications for WOTUS & the Clean Water Act
In October 2022, the U.S. Supreme Court heard oral arguments in Sackett v. U.S. Environmental Protection Agency, a case that could offer clarity on the geographic scope of which wetlands are covered by the Clean Water Act—or muddy the waters further. With a decision expected by June, this discussion will examine the legal issues in the case, including the amici brief submitted by the SWS and other scientific societies.

Speaker: Prof. Royal C. Gardner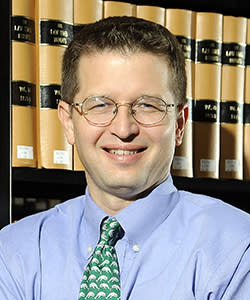 Royal C. Gardner is Professor of Law and Director of the Institute for Biodiversity Law and Policy at Stetson University College of Law. He has worked on wetland law and policy issues for more than three decades, beginning, oddly enough, at the Pentagon. He has coauthored amici briefs on behalf of environmental scientists and scientific societies in Clean Water Act cases, including as lead counsel for the amici brief filed on behalf of SWS and other scientific societies in the U.S. Supreme Court in the cases of County of Maui v. Hawaii Wildlife Fund and Sackett v. U.S. EPA. He is also the author of Lawyers, Swamps, and Money: U.S. Wetland Law, Policy and Politics, which has a small cult following.
Monthly webinars are offered as a benefit of membership. Once each quarter, in March, July, September, and December, the monthly SWS webinar is open for non-members to attend (and at no cost), as well.
Zoom

Event Contact
Society of Wetland Scientists
Send Email
Thursday, April 20, 2023 (1:00 PM - 2:00 PM) (EDT)
Categories
English Webinar